IYT, the Transportation ETF, has breached below a very important support test at 128.26 to complete a harmonic pattern, an Alternate Bat.  This offers buyers a place to step in, will this stop sign be a turn around point or simply a yield before heading down the road?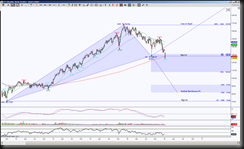 (click to enlarge)
The week chart shows that 128.26 was a point of a triangle, I consider this a Significant Level, there's also correlation with the Weekly 200 moving average if you're an MA fan.  For me, that's convergence and it stipulates this as an important level to hold above or below it.  Due to expansion, in this case a big gap down, the implication is a stall or bounce into resistance while balance occurs between buyers and sellers.
The bias is currently to the downside and the ideal downside target is 81.88 with scaling points at my blue levels, however since I like to be prepared for more than one particular scenario, if price is able to push back above 128.26 and hold above it, then I'm looking for an attempt to either validate or invalidate the bearish bias and the brown colored levels on the Day chart (below) are my targets.  Should price be able to push back above 151.02, then the bias shifts to up with 167.8 as the target.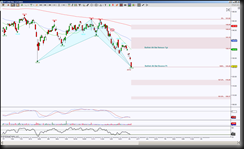 (click to enlarge)
The Day chart shows that an Alternate Bullish Bat harmonic pattern has completed at 125.28, this offers buyers a place to step in for an attempt to go into retracement mode.  The ideal minimum target is 135.11 and ideal target is 151.02 with scaling points at the brown colored levels.  The key part of this is how much oomph do buyers have to enable the retrace mode.  I consider that 135.11 as a very important resistance test and will be another crossroads or stop sign to ponder direction.
Failure to have a respectable retracement, in other words to at the least 135.11 or downside continuation below 125.28 gives us those weekly blue colored levels as downside targets.  I consider a retracement of 38.2% or less as embarrassing because it is my view that all harmonic patterns dream of retracing 100% or more.
Trading involves substantial risk and is not suitable for all investors. Past performance is not indicative of future results.