The DAX completed a harmonic pattern at 9760 offering an opportunity for buyers to step in, when they failed to do so it offers the the opportunity for sellers to push lower to extended harmonic pattern targets.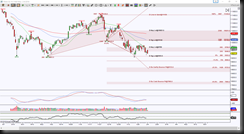 The Day chart shows rather than bouncing with conviction off the brown zone between 9760 & 9546.5, price breached below it to test a previous low of 9303.5, this I call a Significant Level and it is an important one in the world of harmonics.  Below it has two ideal targets, 8723.5 and 7985.5.  Either of these targets will offer another opportunity for buyers to step in for a retracement mode of a bullish pattern.
The other side of the coin, double bottoms also offer that same buying opportunity, and every buying opportunity level in the DAX needs conviction to invalidate the current bearish cross, in this case, initially above 9760 then more important above 10122.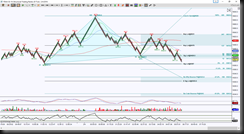 For an intraday perspective, I'm using an STRenko 20 bar chart.  I've left the Day chart levels on this intraday chart labeled with a D.  If price holds below 9387, downside ideal targets are 9232.5 which helps price test the vicinity of the Day Significant Level 9303.5, and the extended ideal target of 9243 would push price below the Day level.
If price is able to hold above the intraday Significant Level 9426.5, the initial important resistance target is 9476 which above there risks shifting the intraday bias to upside, increasing in that probability above 9631.
Trading involves substantial risk and is not suitable for all investors. Past performance is not indicative of future results.